CRONANDER - COLLIER WEDDING DETAILS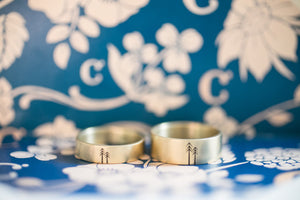 Two friends of mine from high school got married this year in a truly gorgeous affair. I believe my exact words in their guestbook were, "Your wedding is fancy as f&#%!" along with other congratulatory words, of course.  It took place at The Regency Ballroom, which they decked out in a whimsical woodsy backdrop, refined linens and lush floral arrangements. They both looked stunning as they walked down the aisle to string renditions of Van Morrison and The Magnetic Fields. I know I was not alone in the happy tear department. Their love story is just as amazing as their nuptials! Thalia and Ian were introduced by Thalia's sister (and their officiant), Anneke, when they were super young. She presented Thalia to Ian as the girl he was going to marry someday - and holy moly he did! How adorable is that?! I cannot wait to see the many years of love and happiness ahead of them!!!!!!!

Here are some pictures of what I had a hand in. Ian asked for a pattern of flowers - requesting that people would react by saying, "oh my god, those are a lot of flowers! Ian is crazy." or something to that effect. So I created a collage of different floral patterns adorned with their monogram. 
Congratulations to the super incredible amazing meant-to-be lovely wonderful couple!
Photography : Julie Mikos | Planning : Dreams On A Dime | Floral Designer : Carol Antraccoli | Caterer : Englund's Catering and Cafe | Cake : Lotta's Bakery | Stationery : Foreignspell | Hair and Make-up Artists: Painted Ladies | Ceremony Musicians: An Elegant Touch of Strings | Reception Musicians: Horns A Plenty