MARK & NADIA | Wedding Floral Design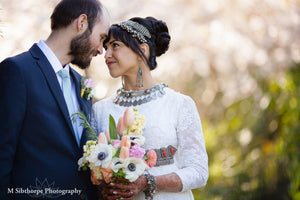 Manali, the photographer with M Sibthorpe Photography, said it best :
"I'm still reeling from the amazing time I had photographing Nadia & Mark's wedding. I can't get enough of how preciously beautiful Nadia looked adorned in her family's old silver jewelry from Yemen and how elegant her hands looked covered in delicate henna patterns. Somehow she found the perfect vintage dress for a whopping $25! We started our shoot with a first look amongst the redwoods in the Tilden Botanical Garden, right next to the Brazilian Room where they held their festivities. For the ceremony Nadia and her family processed from the bottom of the hill at in front of the Brazilian, lead by musicians and playing middle Eastern instruments and beating drums.
They incorporated music, traditional and modern into their ceremony since that is a big part of their lives and I love how at the end of the ceremony their friend who officiated declared, "I now pronounce you wife and husband, you may now kiss the groom!" This wedding was a delight to photograph, enjoy the photos!"
We at violette + amarilla had a wonderful time crafting florals for this lovely fête! Spring was in full fling with bountiful tulips and a shining sun. 
Enjoy some pictures of our work! >>
Can you believe this cake by caballito? It's as delicious as it is beautiful!