Day 2 | Kennewick, WA > Spokane, WA > Glacier NP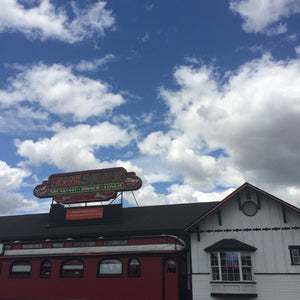 As you likely know by now I'm not the best storyteller. It isn't my favorite thing to do at all, so I'm just going to give the facts, some food/hike recommendations and call it a day. If I've got an anecdote I will share it as best I can. Here we go!!
We drove from Kennewick, WA to Spokane, WA and made breakfast our first stop. We went to Frank's Diner, a breakfast spot in an old train car. How cool is that?!
There's a picture of Louis and me 10 lbs lighter! We definitely got fat and happy on the trip. Highly recommend the Country Benedict (say yes to the smothered hash browns) & Blueberry Muffin French Toast. The hot chocolate is also super adorable and pretty yummy.
We drove through Idaho and stopped for some cherries. They were delicious. One of the owners of the little shop spotted me taking a picture of Gracie and laughed while offering to take my photo with her. I hit my head on the car while trying to escape embarrassment. Mission accomplished.
It was a nice drive and I'd never seen any of Idaho. We made it to Montana (another place I'd never been) to Glacier Under Canvas and set up our home for the night. If you plan a trip to Glacier National Park make this your home base. The showers are nice, the tent are obviously amazing, the welcome tent has beverages and really nice staff, you can play horseshoe or volleyball. When we arrived, there was a determined dog who chased a very spunky and squeaky squirrel up a tree. It was hilarious. Here are some photos.
I also made a little video (in vertical - so stupid) of the complementary ride to our tent. Being that Montana is bear country, the property has precautions around the perimeter to keep them out, but you have to make sure in all the bear-ridden NPs that you keep your food locked away securely!!! Proper bear respect is safer for you and the bear!
 For dinner we went to Glacier Grill & Pizza. We had a salad and pizza. They were yummy and the servers were friendly. There's not a whole lot going on food-wise in the area, so this is a solid choice. OH and they have good beers on tap I am told by Louis. Might be fun to bring some provisions to cook a meal at Glacier Under Canvas, since it's so lovely. Nice to support local places though too!
After a shower, we turned in early to get a jump start on our morning hike!
Next Stop : Glacier Day 2